A Jerry Lee Lewis Tribute & much More!
JARED FREIBURG & The Vagabonds
Date & Time
April 13, 2024 | 7:00pm
Ticket Prices
VIP $55 | Prime $45
Discounted Group Rates Available
About This Show
For the past six years, Jared Freiburg has been touring the world on land and sea performing the role of Jerry Lee Lewis in Broadway's Tony Award-winning Musical, Million Dollar Quartet. Jared was born and raised in Des Moines, Iowa, and began playing piano at the age of five by way of his grandmother. He was first introduced to the style of Jerry Lee Lewis as a young teenager and from that point on, he took on a serious obsession into Jerry Lee's music and to the 1950s era as a whole. While others of his generation listened to pop music of their time, Jared was exposed to artists and songs of the 50's and 60's, setting him up for a dense musical pallet at a young age while spending hours daily devoting much of his passion to playing tribute to "The Killer."
While studying Jazz Performance in Southern California, Jared shifted directions as he got his first opportunity to put his talents on the line actually portraying Jerry Lee Lewis in the touring production of Million Dollar Quartet aboard the Norwegian Getaway. Since then he has starred in productions of the show all around the country, traveled the world playing and singing both Jerry Lee's classic tunes and his own, in prestigious theaters and concert venues and Performing Arts Centers from coast to coast. In 2021, the originating team of Million Dollar Quartet created a sequel to their hit original production – Million Dollar Quartet Christmas – and asked Jared to re-create his 'Jerry Lee Lewis' role in the new show's world debut tour. The tour traveled through the country, and Jared is featured in its original Cast Recording to be released later this year. Jared recorded and released his first album of original music last year, entitled Vagabond.
B.Y.O.B.
Bring a 6-pack, bottle of Wine, or a Flask! Small coolers will be allowed but NO coolers with wheels.
Seat Options
Our VIP seats feature a wider chair with a cup holder and are exclusively on the first 6 rows in the theater's center aisle.
Get Directions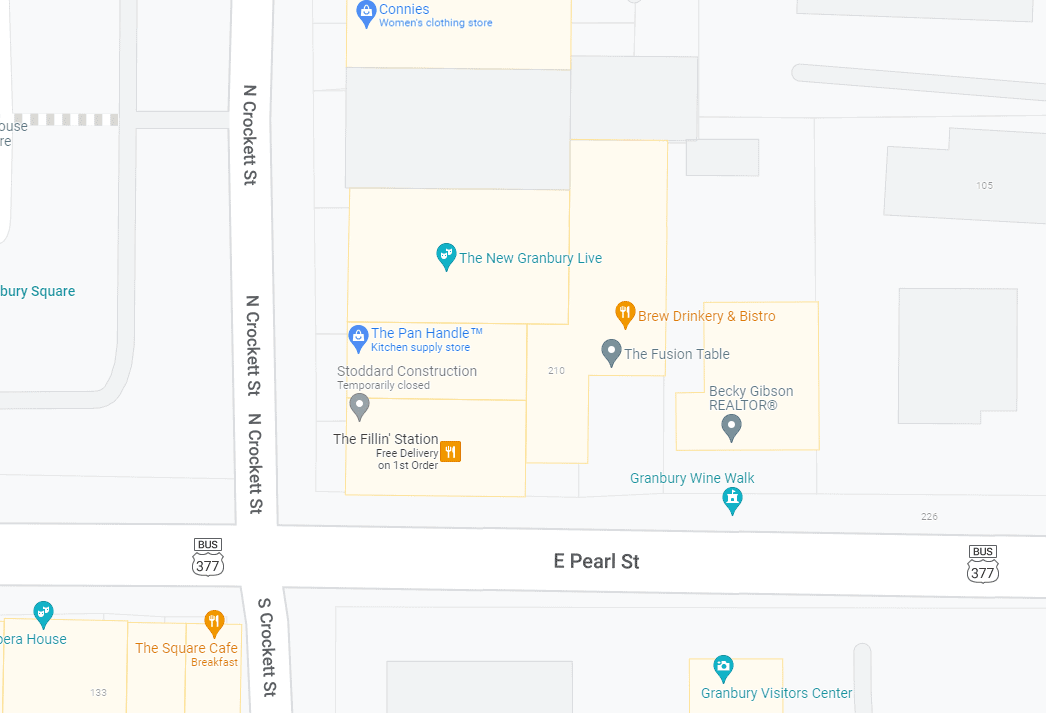 Box Office
110 N. Crockett St.
Granbury, TX 76048
More Acts Coming to Granbury Live!
December 1st, 2023 | 7:30pm
VIP $55 | Prime $45
FABBA Christmas
ABBA's Hit and some Christmas
December 2nd, 2023 | 7:00pm
VIP $62 | Prime $52
Malpass Brothers
December 7th, 2023 | 7:30pm
VIP $60 | Prime $50
Gary Morris
A Gary Morris Christmas
December 8th, 2023 | 7:30pm
VIP $40 | Prime $35
Country Christmas
December 9th, 2023 | 3 & 7pm
VIP $52 | Prime $42
Michael Hix
The Michael Hix Christmas Party
December 15th, 2023 | 7:30pm
VIP $40 | Prime $30
Shake Rattle & Roll
Magical Music of the 50's and 60's