Chad Prather
An American conservative political commentator, comedian and internet personality
Date & Time
March 29th, 2024 | 7:30pm
Ticket Prices
VIP $58 | Prime $48
Discounted Group Rates Available
About This Show
Most of us are born into this world kicking and screaming, but Chad Prather most certainly came out laughing. The comedian, musician and armchair philosopher is an unapologetic champion for anyone looking for a reason to smile. Prather's God-given gift to entertain and inspire has made him a household name, and he's grown accustomed to captivating millions of viewers on any given day.
Coming from humble beginnings, Chad Prather learned to find joy and amusement in even the most unremarkable moments that life has to offer. "For me," Prather admits, "comedy really isn't all that complex. More often than not, nothing makes me laugh harder than when common sense sneaks up and wins the day."
Perhaps the most compelling quality Chad Prather possesses is his refusal to compromise the things he's most passionate about. From acting and comedy to music and motivational speaking, there doesn't seem to be a field in entertainment that Prather can't conquer.
Chad Prather has made numerous appearances on Fox News, CNN, A&E, The Blaze, MSN and more, and his talents have been praised by the likes of Southern Living, Nash Country Weekly and Newsweek.
In addition to hosting top rated Blaze TV's The Chad Prather Comedy Show and contributing weekly to One America News Network, Prather is celebrating the release of his most recent album Y'All Shut Up and embarking on his second international comedy tour. Following the immense success of Star Spangled Banter, Chad Prather is back on the road with the Am I Crazy Comedy Tour.
Fans of the fast-talking, observational humorist have branded him 'the modern day Will Rogers', but if you ask Chad, he's really "just a hooker with a good heart." For Chad Prather, taking yourself too seriously is the truest form of self-sabotage, and life is too short for that!
B.Y.O.B.
Bring a 6-pack, bottle of Wine, or a Flask! Small coolers will be allowed but NO coolers with wheels.
Seat Options
Our VIP seats feature a wider chair with a cup holder and are exclusively on the first 6 rows in the theater's center aisle.
Get Directions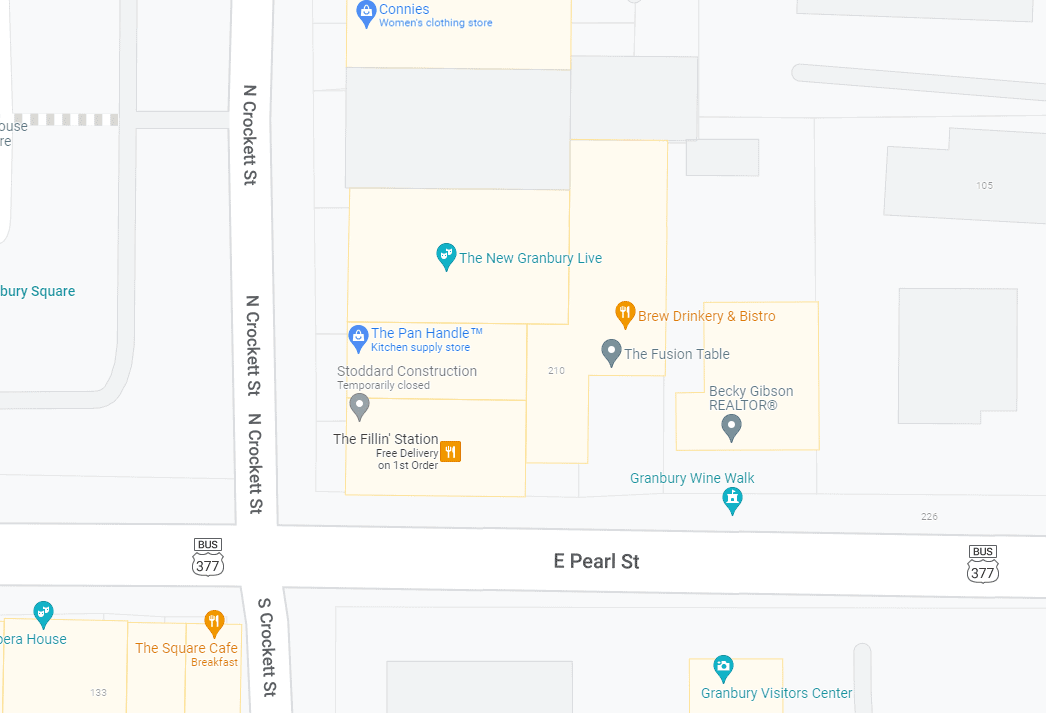 Box Office
110 N. Crockett St.
Granbury, TX 76048
More Acts Coming to Granbury Live!
December 1st, 2023 | 7:30pm
VIP $55 | Prime $45
FABBA Christmas
ABBA's Hit and some Christmas
December 2nd, 2023 | 7:00pm
VIP $62 | Prime $52
Malpass Brothers
December 7th, 2023 | 7:30pm
VIP $60 | Prime $50
Gary Morris
A Gary Morris Christmas
December 8th, 2023 | 7:30pm
VIP $40 | Prime $35
Country Christmas
December 9th, 2023 | 3 & 7pm
VIP $52 | Prime $42
Michael Hix
The Michael Hix Christmas Party
December 15th, 2023 | 7:30pm
VIP $40 | Prime $30
Shake Rattle & Roll
Magical Music of the 50's and 60's